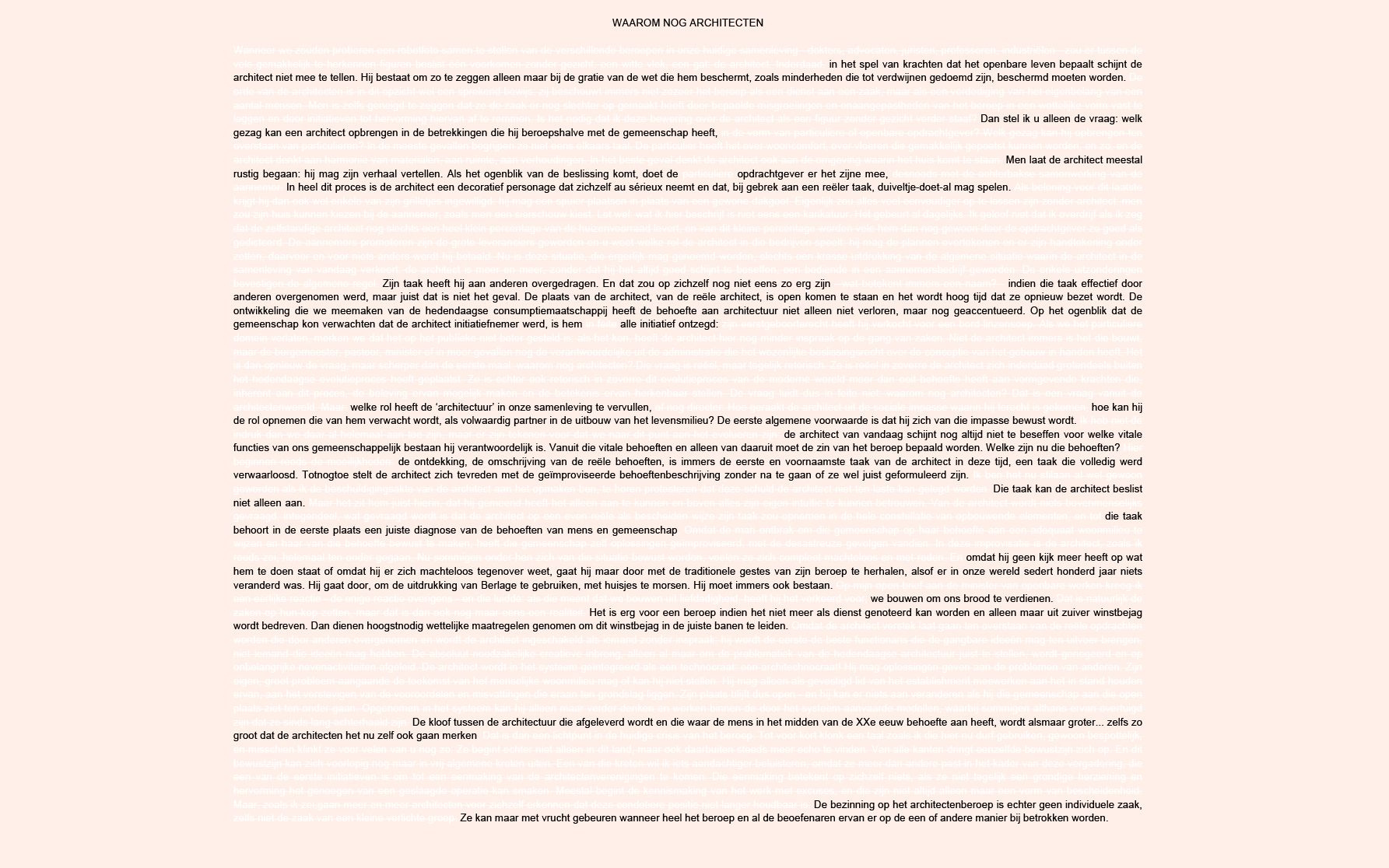 Why do we still have architects?
If architecture is 'more than just building', then literature has to be more than just writing. With a ready-made case for not-building, an abridged version of this leaflet seemed more than fitting as content for a blog post within the framework of the first edition of the Festival of Architecture, organised by the Flanders Architecture Institute. However, we felt that not-writing was the better option in this instance because there is no better person to express the essential task of the architect than the late Geert Bekaert. The following is an abridged version of his text Waarom nog architecten (Why do we still have architects?), reduced by us to the 500-word limit. Dating from 1968, it is still as relevant today as it was back then in its questioning and challenging of what responsibilities RE-ST upon our shoulders as architects.
Article
(…) In the game of forces that determine public life, architects no longer seem to matter. They exist as it were only by the grace of the law that protects them, in the same way that minorities, threatened with extinction, need to be protected (…)
I ask you (...) this question: what authority do architects have in their professional dealings with the community (...)? Most of the time, architects are left to quietly go about their business: they are allowed to tell their story. Right up to when a decision needs to be made, (...) then clients just do what they want to anyway (...) In this whole process, architects are mere side characters who take themselves seriously and who, for lack of a more concrete task, are allowed to do a bit of everything (...) They have handed their responsibilities over to others. In itself, that wouldn't be so bad if these were actually being taken on by others, but that is not the case. The position of the architect, of the actual architect, has become vacant and it is about time that it is filled again. The development we are seeing in today's consumer society shows that the need for architecture has not only been lost, but has actually accentuated it. The moment the community could expect architects to take the imitative, they were denied (...) any initiative (…).
So, I ask the question again, but a little more forcefully this time: do architects still matter? (...) What is the role of 'architecture' in our society? (...) How (...) can architects fulfil the role expected of them, as a full partner in the development of our environment? The first prerequisite is for them to become aware of this impasse (...) Today's architects don't always seem to realise what their vital responsibilities are in our communal existence. The purpose of the profession has to be defined in terms of these vital needs.
What are those needs? (...)
Providing a clear definition of the actual needs is the primary and most important responsibility of today's architects, a responsibility which has been completely neglected. Until now, architects have been satisfied with the improvised description of needs without checking whether or not these have in fact been correctly formulated (...) There is no way architects can take on this task alone (...) part of which involves making a correct diagnosis of the needs of people and society in the first place (...) Because they no longer have any idea what they are expected to do or feel powerless to do it, they continue to go through the motions of their job. They just keep littering our country with houses. After all, they have to exist ... we build to earn a crust …
The gap between the architecture that is being delivered and what people (...) actually need is increasingly widening (...) So much so, in fact, that architects themselves have begun to notice it (...). But it is not just up to the individual to reflect on the nature of the architect profession (...) This can only be done successfully if the entire profession and all its practitioners become involved in one way or another.
The original unabridged version of this text is part of the publication 'Verzamelde opstellen. Deel 2: Los in de ruimte 1966-1970' by Geert Bekaert.