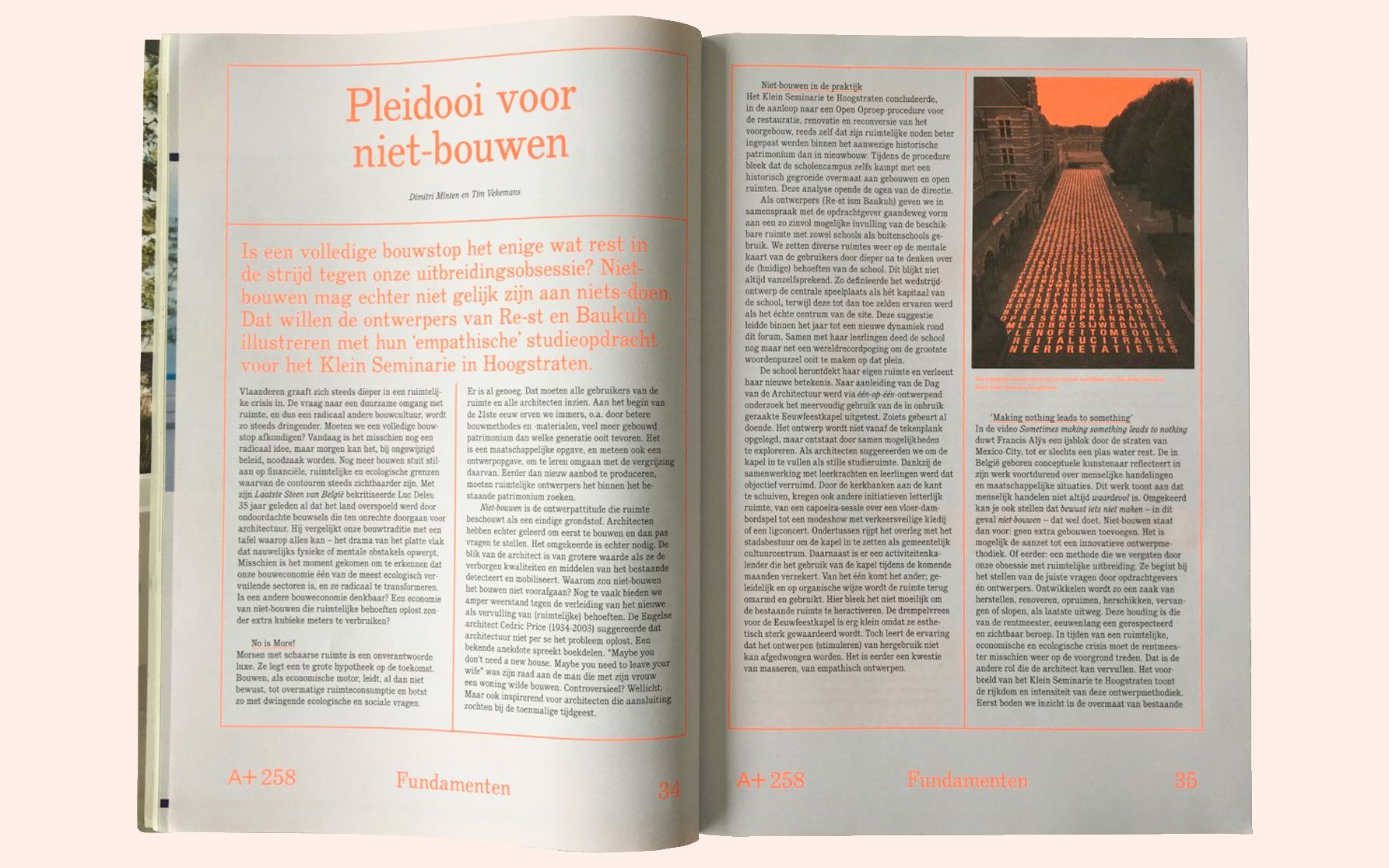 Making a case for not-building
Is a complete building freeze our last resort in the fight against our obsession for expansion? Not-building, however, isn't the same as doing nothing. This is illustrated by the designers of RE-ST and Baukuh in their 'empathic' study carried out for Klein Seminarie in Hoogstraten.
Dimitri Minten and Tim Vekemans in A+ 258, Fundamenten
Article
Flanders is digging itself increasingly deeper into a spatial crisis. The demand for a sustainable management of space, and therefore the need for a radically different construction culture, are becoming more and more urgent. Should we declare a complete building freeze? This may still sound like a radical idea today, but with no change in policies, it may become an absolute necessity tomorrow. The urge to build more and more is gradually coming up against financial, spatial and ecological limits, the contours of which are becoming increasingly visible. As early as 35 years ago Luc Deleu, with his Laatste Steen van België (Last Stone of Belgium), criticised the fact that the country had been overrun by ill-considered structures incorrectly described as 'architecture'. He compares our building tradition to a table on which anything can be laid – the problem of a flat surface that scarcely offers any physical or mental obstacles. Perhaps the time has come to recognise that our building industry is one of the most ecologically polluting sectors and to radically transform this. Is another type of building industry conceivable? Perhaps an industry focused on not building that provides for spatial needs without consuming extra cubic meters?
Less is more? No is more!
Messing around with scarce space is an irresponsible luxury. This places an excessively heavy mortgage on the future. Construction, as an economic driver, leads consciously or subconsciously to excessive space consumption, therefore clashing with compelling ecological and social issues. There's enough as it is. All users and architects must understand this. After all, at the beginning of the 21st century, we stand to inherit – partly due to the use of improved construction methods and materials – a much larger building stock than any generation before us. Learning how to deal with the ageing of this stock is a social as well as design challenge. Rather than producing new things, spatial designers have to look for answers within the existing building stock.
The not-building design attitude looks on open space as a finite resource. Architects have learned to first build and then start asking questions, but now the reverse is necessary. The architect's perspective is of greater value when it detects and mobilises the hidden qualities and resources of existing buildings. Why shouldn't not-building be given priority over building? We still tend to give in too easily to the temptation of the new to satisfy our spatial needs. The English architect Cedric Price (1934-2003) suggested that architecture does not necessarily solve the problem. An often-quoted remark by him speaks volumes: "Maybe you don't need a new house. Maybe you need to leave your wife." It was his advice to a man who wanted to build a house together with his wife. Controversial? Perhaps. But also inspiring for architects who sought to connect with the prevailing zeitgeist.
Not-building in practice
During the run-up to the Open Call procedure for the restoration, renovation and reconversion of its front building, the Klein Seminarie school in Hoogstraten concluded that its spatial needs could be better accommodated within the limits of the existing historical patrimony than through new-build projects. During the procedure, it also emerged that the school campus is struggling with an excess of buildings and open spaces that has developed over time. This analysis opened the eyes of the school governors.
As the appointed designers (RE-ST, in collaboration with Baukuh) and in consultation with the client, we are gradually developing a plan for the most meaningful use of the available space for school and extracurricular activities. We encourage the users to reimagine the various spaces by thinking more deeply about the current and future needs of the school. This is not as easy or obvious as it may seem. For example, the design competition defined the central playground as the main asset of the school, while until then it had seldom been perceived as the real centre of the site. Within the year, this suggestion sparked off a new dynamic regarding the forum. Together with its pupils, the school has recently made a world record attempt to create the largest word puzzle ever on this central square.
In this way, the school gradually rediscovers its own spaces and gives them new meaning. On the occasion of World Architecture Day, a one-on-one design study was carried out to test the multi-functional use of the Centenary Chapel that had by then fallen into disuse. We did this by trying out various activities. Rather than imposing a design from the drawing board, it is better to gradually develop ideas through a shared exploration of the possibilities. As architects, we suggested using the chapel as a quiet study space. Thanks to the cooperation with the teachers and pupils, we were able to broaden this objective further. The pews were pushed aside to make room for other initiatives: from a capoeira session to a floor checkers game to a fashion show with high visibility clothing or a lie-down concert. In the meantime, discussions are underway with the city council for using the chapel as a municipal cultural centre. In addition, an activity calendar is being drawn up to ensure the use of the chapel during the coming months. One thing leads to another: gradually and organically, the space is being re-embraced and reused. In this case, it was not difficult to reactivate the existing space. In general, the level of initial resistance to the Centenary Chapel is very low because it is highly valued aesthetically. However, experience shows that designing or encouraging reuse cannot be imposed from above. Rather it is a question of gentle persuasion, of empathic design.
Making nothing leads to something
In his video Sometimes making something leads to nothing, Francis Alÿs pushes a block of ice through the streets of Mexico City until only a pool of water remains. Through his work, the Belgium-born conceptual artist reflects continually on human actions and social situations. This work shows that human action is not always meaningful. Conversely, you can also state that deliberately not making something – in this case, not-building – is worthwhile. Not-building means not adding any extra buildings to the existing stock. This may be the impetus for an innovative design methodology. Or rather: a method we lost sight of because of our obsession with spatial expansion. It all starts with clients and designers asking the right questions. In this way, development becomes a matter of repair, renovation, clearance, rearrangement, replacement or, as the last resort, demolition. This attitude is that of a good steward, which was a respected and highly-visible profession for centuries. In times of a spatial, economic and ecological crisis, the steward may have to take centre-stage again. This is the other role that the architect can fulfil. The example of Klein Seminarie in Hoogstraten demonstrates the richness and intensity of this design method. First, we started by drawing the client's attention to the existing overabundance of space. Only then did we try to find, together with the client, more meaningful ways of using this space. This is not just a physical operation, but also a rehabilitation of the existing space in the minds of the users. Sometimes this requires coming up with alternatives that transcend the boundaries of the location. Sometimes, consultation with the neighbours is necessary. The concept of not building approaches the space from an in-depth understanding of the existing possibilities. Not building isn't the same as doing nothing. Rather, it is a different way of doing things.
This article is based on a study conducted by RE-ST in collaboration with Topotronic (NL), UHasselt research group ArcK and Fakton (NL).